torna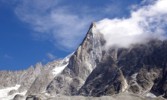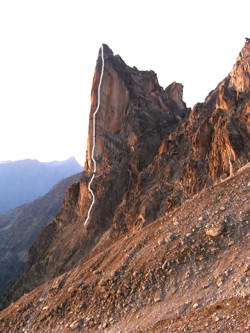 Mont Blanc Petit Clocher du Portalet
Il Petit Clocher di Portalet (m 2823) è alto quasi come il rifugio, infatti già lo si vede salendo giù a sinistra con la splendida yosemitica nord. Dal rifugio si scende la morena e si attraversa il ghiacciaio di Orny sotto il fronte per prendere una traccia che porta alla cintura attorno al Clocher (1 ora e trenta). In stagioni secche si può arrivare anche con scarponcini leggeri.
Petit Clocher du Portalet (2823 m) base is lower then Cabanne d'Orny. The approach downhills the Orny moraine, crosses the front of glacier, follows a track to tha base ledge of the north side (1 hour 30).
Etat du Choc. Granito liscio, incastro puro tipo yosemite, un modello di arrampicata. Da affrontare con isoterma alta essendo in pieno nord. Le soste sono state recentemente (2010) attrezzate a fix.
Etat du Choc. Yosemite-like granit, a real must. It is a north face, so care the weather !

La valle dell'Arve risale da Chamonix verso Argentiere e la Svizzera. Il versante svizzero del Monte Bianco non è particolarmente rilevante per le pareti rocciose, fatta eccezione dell'estremo oriente. Scesi a Martigny si percorre un tratto della strada del Sempione. Dopo pochi chilometri voltare a destra per Champex che si raggiunge per bella strada nel bosco, Champex ha il lago e una zona residenziale. La seggiovia della Breya porta rapidamente sulla dorsale a 2200 metri da dove parte il sentiero che domina la Combe d'Orny. In due ore di cammino piacevole si svalica sul bacino del ghiacciaio di Orny, e si arriva alla Cabane d'Orny (m 2811) (+41(0)277831887). Bellissimo rifugio, accogliente.
The Mont Blanc east geographic area, the swiss side, is small and poor of relevant rock walls. In the far east, from Martigny to Simplon Pass, a route for Champex leads to a turistic area with a lift (Breya) which reaches 2200 masl. An amazing track, above the Combe d'Orny, leads to the Orny glacier and to the Cabanne d'Orny (2811 m)( 2 hours)..
Esprit de Clocher. Grande linea di fessura a incastro che libera la via di Michel Darbellay, 1967. Si segue la cintura di base fino alla catena, la piattaforma seguente segna l'attacco nella fessura a sin del'evidente diedro.
Esprit de Clocher. Jam crack route in the middle of the east face. Walk the base track to the chain, after that the route begins climbing a crack leftwards of a big open book.